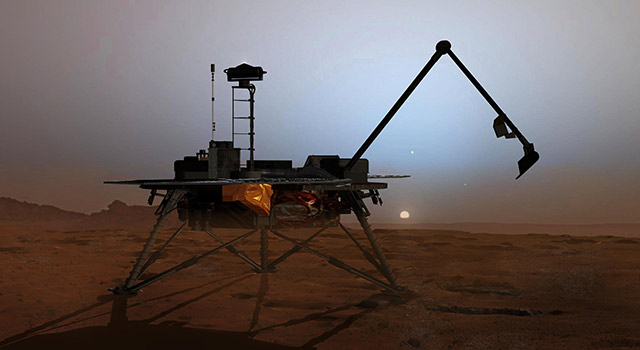 This activity is part of our Engineering in the Classroom tool for educators! Click to learn more about the Next Generation Science Standards (NGSS) for engineering, make connections to NASA and discover more standards-aligned activities.
› Explore the tool
Overview
Soda Straw Rockets is an excellent opportunity for students to practice the engineering design process. This activity provides students with a template that creates a rocket that can be launched from a soda straw. They are then challenged to modify the design to see how the changes impact the rocket performance. Length, fin shape or angle can be changed–one variable at a time–to see how the rocket launch performs, and compares to the control design.
Materials
Management
Move desks/tables out of the way to make room for rocket launch. Or, consider launching rockets outside if that's an option.

Set out tape markers for distance if the number of meter sticks/tape is limited. Or, use floor tile length to calculate distance.

Each student should construct their own rocket even while working in a group.

Background
Modern rocket design began near the beginning of the 20th century. While much has been learned and rockets have grown larger and more powerful, rocket designs are still improving. Engineers developing new rockets must control variables and consider failure points when improving rocket designs. By changing one variable at a time, engineers can determine if that change leads to an increase or decrease in performance. They must also consider how their design might fail, and work to improve their design. These incremental changes allow engineers to improve rocket performance and increase the amount of mass they can lift into space.

Procedures
Student Procedure
Carefully cut out the large rectangle on the rocket template. This will be the body of the rocket. Wrap the rocket body around a pencil length-wise and tape it closed to form a tube.


Carefully cut out the two fin units. Align the rectangle in the middle of the fin unit with the end of the rocket body and tape it to the rocket body. Nothing should stick out past the bottom of the rocket body.

Do the same thing for the other fin unit, but tape it on the other side of the pencil to make a "fin sandwich."
Bend one fin (triangle) on each fin unit 90 degrees so that each fin is at a right angle to its neighbor. Looking from the bottom of the rocket, the fins should look like a "+" mark.


Using the sharpened end of the pencil, twist the top of the rocket body into a nose cone.


Measure the nose cone from its base to its tip and record the length in the data log and on the rocket itself. (Once completed, the rocket will be about 13 cm tall (about 5 inches).


Remove the pencil and replace it with a soda straw.


Blow into the straw to launch the rocket.


Use the meter stick to measure, the distance it travels, then record the distance on the data log.


Next, make new rockets by altering the template. Try different rocket lengths, fin shape, or angle. Repeat steps 5 and 7 for every launch, recording each design change and distance in the data log.
Extensions
Create a class data table. Students can share data and discuss how rocket length affects distance.

Let students personalize their rockets by coloring or drawing on them.
Watch this video to learn more about science conducted with sounding rockets.

Registration Form: Registration-Form-2017_20160328-184912_1-1.pdf
Summer Session 1: June 5 - 23, 2017
Pre-school - High School
Location: Pre-school - Grade 7, Lakeview Middle School
Location: High School Credit and Credit Recovery, WCHS

Applications available at each elementary and middle school. High school students can enroll online.
Deadline for Applications: May 12, 2017

Summer Session 2: July 10 - 28, 2017
High School Only

Breakfast and lunch provided free of charge to all summer school students. Transportation is available.

Programs Offered

Kindergarten Readiness: Funded through United Way
· Target population: students entering kindergarten who never went to preschool. (Only those students who have gone through the Kindergarten screening process.)

Reading Readiness: Title I funding
· Target population: students who have completed kindergarten but are slightly behind and would benefit from a summer intervention to make sure they have the skills needed for 1st grade. (Only those students from Title 1 elementary schools are eligible.)

IREAD: Grades 1 – 3 · Target population: Students who are identified through the use of multiple assessments and teacher recommendation and/or 3rd grade students who did not pass the spring IREAD in 3rd grade. (The 3rd grade students who did not pass the spring IREAD assessment will take the IREAD assessment again at the conclusion of summer school after participating in the summer intervention program.)

Literacy Intervention: Grades 4, 5, 6, and 7
· Target population: students who are behind on basic literacy skills for reading, writing and/or math. (Each elementary school will be permitted to enroll up to 5 per grade level, with the possibility to fill any remaining seats, grades 4 – 6. Each middle school will have 10 seats, grade 7 only.) These spots are limited and the enrollment will close when the classes are filled.

STEM Summer Program: Grades 4, 5, 6
· Students interested in exploring STEM through Inquiry lessons and Project Based Learning. Electrical Engineering, Computer Sciences and Biomedical Engineering will be explored in this exciting summer learning opportunity! A STEM learning showcase will be open to the public at the conclusion of the summer session to give students the opportunity to demonstrate their learning.

High School Credit/APEX (credit recovery): Grades 9 – 12 (Category 1)
· Target population: Students interested in earning credits to pursue other courses during the school year and those who need to recover credits not attained yet and needed for graduation.


Questions?
Contact JoElla Smyth, WCS Summer Program Coordinator
jsmyth@warsawschools.org

Summer Camps Available in July:
Some Scholarships Available

July 10 - 14, 2017
Art in the Great Outdoors: Grades 1 - 3 Cost $100
Nature will be our classroom! Art and nature will come together as we explore the garden, creek and woods near the school. Let's study like the famous scientist and artist Leonardo Da Vinci. He learned by careful observation and sketching scientific specimens.

Another famous French artist Claude Monet painted outdoors and was careful to notice the light and color around him. Let's get outside and paint the beautiful colors of summer in Indiana!

Participants will create a variety of artwork to include a handmade sketchbook/journal, art with botanical accent, watercolor nature scene and woodland inspired collage and sculpture The time frame and format of this class will provide the perfect setting for in depth study not present in the regular school curriculum.

Course instructor, Mrs. Johnson is an experienced art teacher and certified Master Gardener and is anxious to share her love of art and nature with children.

Ivy Tech Camp: 3D CAD and 3-D Printing: Grades 5-7 — Cost $100
See Flyers for details:
OAMTC-CAM-CNC-Camp-Flyer-6.pdf
OAMTC-3D-Camp-Flyer-5.pdf


July 17 - 21, 2017
Art in the Great Outdoors: Grades 4 - 6 Cost $100

Ivy Tech 3D CAM & CNC Manufacturing Camp :Grades 5-7 — Cost $100 CAD/CAM (Computer Aided Design/Manufacture) CNC Machining (Computer Numerical Control)
See Flyers for details:
OAMTC-CAM-CNC-Camp-Flyer-6.pdf
OAMTC-3D-Camp-Flyer-5.pdf

Camp Applications are available online. Please download and print Registration-Form-2017_20160328-184912_1-1.pdf, complete and return with your payment to your school office or send to:

Edgewood Middle School
Attn: JoElla Smyth
900 S. Union Street
Warsaw, Indiana 46580